Worms (video game) at Wikia
---
[
]
Welcome to the Worms (video game) mini wiki at Scratchpad!
You can use the box below to create new pages for this mini-wiki.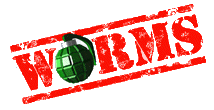 Worms
is a series of
artillery
strategy
computer games
developed by British company
Team17
. Players control a small platoon of worms across a deformable landscape, battling other computer- or player-controlled teams. The games feature bright and humorous cartoon-style animation and a varied arsenal of bizarre
weapons
.
The game, whose concept was devised by Andy Davidson,[1] was described by the Amiga gaming press as a cross between Cannon Fodder and Lemmings.[2] It is part of a wider genre of turn-based artillery games in which each player controls characters who duel with projectile weapons; similar games include Scorched Earth (1991), Gorillas (1991) and Artillery Duel (1983).
Parodies

 WARNING: You may add parodies. But, do NOT delete any. Complete parodies list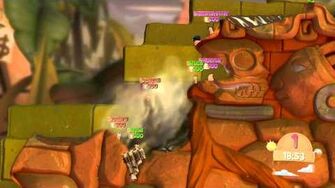 See also
References
↑ "Interview with Andy Davidson". Team17. http://wormsarmageddon.team17.com/main.html?page=abou&area=thet&inte=andd

. Retrieved 2007-04-17

.
↑ Davies, Jonathan. "Worms (Preview)", Amiga Power Issue 48, Future Publishing, April 1995, pp. 12–13.

 
Ad blocker interference detected!
Wikia is a free-to-use site that makes money from advertising. We have a modified experience for viewers using ad blockers

Wikia is not accessible if you've made further modifications. Remove the custom ad blocker rule(s) and the page will load as expected.