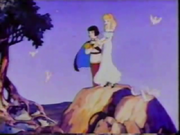 Would He Ever is a Shining Time Station Valentine's Day song from He Loves Me, He Loves Me Not.
Lyrics
If I made him cookies
And some honey tea
Climbed the highest mountain
Swam the deepest sea
If I threw confetti
From his backyard tree
Would he ever
Even notice me?

If I sent him roses
And a dancing bear
Or a nest of robins
Tangled in my hair
If I dared to tell him
Just how much I care
Would he ever
Really be there?
Please don't make him understand
Make him simply want to hold my hand
If I walked a tightrope
Wearing just a grin
Out a magic cosset
Took him far within
If I played him tennis
But I'd let him win
Would he ever
Could he ever
Will he ever
Only let me in?
Cartoons in the song
Color Classics - Jack Frost (1934)
Fleischer Studios - Bunny Mooning (1937)
Gulliver's Travels (1939)
Noveltoons - The Enchanted Square (1947)
Video
Ad blocker interference detected!
Wikia is a free-to-use site that makes money from advertising. We have a modified experience for viewers using ad blockers

Wikia is not accessible if you've made further modifications. Remove the custom ad blocker rule(s) and the page will load as expected.