Xan
Xan
Herkunft
Erde
Rasse
Mensch/Soulblazer
Geburtsdatum
?
Alter
?
Familie
Keine Bekannt
Haarfarbe
rot
Augenfarbe
braun
Größe
155cm
Gewicht
55kg
Waffe
Kampfstab, Speer
Techniken
?
Geschichte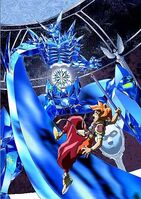 Seit dem Ende des großen
Seelenkrieges
war das Schicksal aller
Soulblazer
besiegelt in der letzten Schlacht wurde Xan, seines zeichnen erster Lebens bejaander Soulblazer, durch eine Fremde Existenz vollkommen seiner Macht enthoben und in das reine Herzen eines neugeborenen gesiegelt, das Gegenstück Xans
der dunkle Streiter Ibiki, verlassen von seiner einzigen Liebe total verfallen der Dunkelheit und Einsamkeit betrogen und verraten, sollte ihm wenig später folgen um das Gleichgewicht im Körper des Jungen Menschen zu wahren und ihm so ein möglichst normales Leben zu ermöglichen. Das war die Geburtstunde unseres Xans, welcher seine Eltern nie wirklich kannte, aufgezogen von seinem Großvater wuchs er wohl behütet auf, in einer Umgebung welche idyllischer kaum sein kann. Als sein Großvater starb beschloss der unerfahrene Mensch die Welt zu erkunden, dabei traf er auf viele neue Freunde, und auch Feinde die der noch recht unbescholtene Junge nie vergessen wird. Es waren die Erfahrungen in jener zeit die Xan prägten und formten, schnell entstand ein Bund der Freundschaft
zwischen ihm und seinen ersten Lehrmeister
Kakashi
, welcher bis heute andauert.
Jedoch scheint es als würde Xan langsam auf die Lasten seiner vermeidlichen Vergangenheit stießen.
Charakter
Xan ist für viele recht tollpatschig erscheinender liebenswerter Kerl. Auch wenn er zu Naivität neigt so ist er doch zu allen die er seine Freunde nennt Loyal und würde zur Not mit allen bescheidenen Mitteln die ihm zur Verfügung stehen diese beschützen. Er ist sehr Lebensfroh und Neugierig.
Kampfstil
Taijutsu und Ninjutsu
Ad blocker interference detected!
Wikia is a free-to-use site that makes money from advertising. We have a modified experience for viewers using ad blockers

Wikia is not accessible if you've made further modifications. Remove the custom ad blocker rule(s) and the page will load as expected.