Ad blocker interference detected!
Wikia is a free-to-use site that makes money from advertising. We have a modified experience for viewers using ad blockers

Wikia is not accessible if you've made further modifications. Remove the custom ad blocker rule(s) and the page will load as expected.

Xorcom
Locations
Headquarters
Xorcom Ltd. Teradyon Industrial Park Misgav, 20179 Israel Tel.+972 49951999 Fax. +972 49990493
e-mail: info@xorcom.com
USA
Xorcom USA 2012 W. Lone Cactus Drive Phoenix AZ 85027 USA Tel: 1-866-XORCOM1 866 9672661
email: info.usa@xorcom.com
Description
Xorcom products facilitate setting up an Asterisk® PBX and implementing VoIP telephony quickly and easily. Xorcom products are telephony hardware platforms integrated with Asterisk® software. Xorcom harnesses the power of Asterisk® Open Source IP-PBX to design and produce hardware telephony solutions for commercial installations. System integrators, telecom equipment manufacturers, and customer premise telephony and VoIP providers use Xorcom's USB channel banks and IP-PBX systems to provide added value to their end users.
Products
XR1000 Asterisk® IP PBX for SOHO.
Supports up to 12 concurrent calls, up to 16 analog ports (FXS and/or FXO) and up to 50 users.
XR2000 Asterisk® IP PBX for SMB.
Supports up to 60 concurrent calls, up to 160 analog ports (FXS, FXO, BRI, PRI and/or R2) and up to 300 users.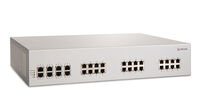 XR3000 Enterprise-grade Asterisk® IP PBX.
Supports up to 300 concurrent calls, up to 640 analog ports (FXS, FXO, BRI, PRI and/or R2) and up to 1000 users.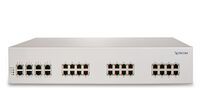 Astribank PSTN USB-connected Channel Bank designed especially for Asterisk®.
Modular design enables different combinations of PSTN ports (FXS/FXO analog; E1/T1 PRI; E1 R2; and BRI ISDN).