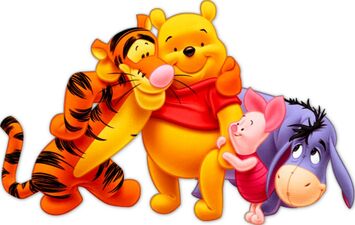 Cast:
Yogi Bear as Pooh
Scare Bear as Piglet (both are cowardly)
Snagglepuss as Tigger
Huckleberry Hound as Eeyore
Quick Draw McGraw as Rabbit
Maw Rugg as Kanga
Shag Rugg as Roo
Wally Gator as Owl
Mountain Bear as Gopher
Top Cat as Christopher Robin
Dick Dastardly as Nasty Jack
Aoogah (from Tweety's High Flying Adventure) as Kessie
Lippy the Lion & Hardy Har Har as Stan Woozle and Heff Heffalump
Grape Ape as Wooster
Sagebrush Sal as Christopher Robin's Mom
Robot Jones (from Whatever Happened to... Robot Jones?) as Bruno
Kitty Glitter as Anne Darlington
Hokey Wolf as Sora
Magilla Gorilla as Lumpy the Heffalump
Cindy Bear as Darby
Ad blocker interference detected!
Wikia is a free-to-use site that makes money from advertising. We have a modified experience for viewers using ad blockers

Wikia is not accessible if you've made further modifications. Remove the custom ad blocker rule(s) and the page will load as expected.