Ad blocker interference detected!
Wikia is a free-to-use site that makes money from advertising. We have a modified experience for viewers using ad blockers

Wikia is not accessible if you've made further modifications. Remove the custom ad blocker rule(s) and the page will load as expected.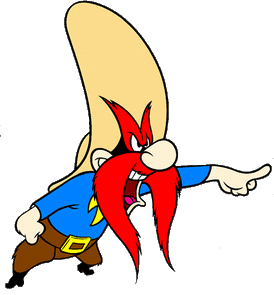 Yosemite Sam is an
American
animated cartoon
character
in the
Looney Tunes
series. He is commonly rude, evil, unkind, mad & unhappy.
In Tiny Toon Adventures, Yosemite Sam is the mentor and favorite teacher of Montana Max.
Counterparts (Tiny Toon Adventures Version)
Counterparts (Looney Tunes Version) (Villain Version)

 WARNING: You may add appropriate counterparts. But, do NOT delete any.
Denzel Crocker (The Fairly OddParents)
Lord Zedd or Goldar (Mighty Morphin Power Rangers)
Heihachi Mishima (Tekken)
Kevin