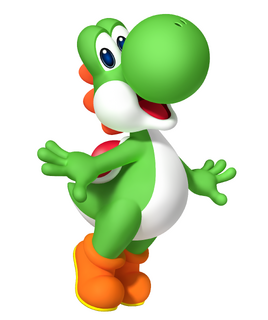 Yoshi
is a character from the
Super Mario Bros.
franchise and the
Yoshi's Island
franchise.
Video Game Appearances
Super Mario World (1990, 1991)
Yoshi (1992)
Yoshi's Cookie (1993)
Yoshi's Safari (1993)
Yoshi's Island (1995)
Yoshi's Story (1998)
Mario Party (1999)
Super Smash Bros. (1999)
Mario Party 2 (2000)
Mario Party 3 (2001)
Super Smash Bros. Melee (2001, 2002)
Super Mario Sunshine (2002)
Mario Party 4 (2002)
Mario Kart Double Dash!! (2003)
Mario Party 5 (2003)
Mario Party 6 (2004, 2005)
Yoshi Touch and Go (2005)
Yoshi Topsy-Turvy (2005)
Mario Party 7 (2005, 2006)
Yoshi's Island DS (2006)
Mario Kart Wii (2008)
Super Smash Bros. Brawl (2008)
New Super Mario Bros. Wii (2009)
Super Mario Galaxy 2 (2010)
Fortune Street (2011, 2012)
Mario Party 9 (2012)
New Super Mario Bros. Wii U (2012)
New Super Luigi U (2013)
Sonic Lost World (2013)
Counterparts (Mario Version) (Do not delete, but you can add)
Percy (Thomas the Tank Engine and Friends/The Railway Series, both are small)
Bowser Junior or Toad (SML)
Buggy or Wubbzy (Wow Wow Wubbzy)
Bo, Booker, or Wade (Garfield & Friends)
Wakko Warner (Animaniacs, both are enjoy eating)
Hamton J. Pig (Tiny Toon Adventures, both are enjoy eating)
Orbitty (The Jetsons)
Spike (My Little Pony: Friendship is Magic)
Kyle Broflovski or Kenny McCormick (South Park)
Young Simba, Timon, or Pumbaa (The Lion King)
Thumper (Bambi)
Alex Pruitt (Home Alone)
Larry Fine (The Three Stooges)
Ferb Fletcher, Perry the Platypus or Phineas Flynn (Phineas and Ferb)
Gabe Duncan (Good Luck Charlie)
Donald Duck, Pluto, Goofy, or Mickey Mouse (Mickey Mouse)
Eeyore or Tigger (Winnie the Pooh)
Buzz Lightyear or Rex (Toy Story)
Chester, Timmy Turner or Baby Poof (The Fairly OddParents)
Junior Asparagus or Larry the Cucumber (VeggieTales, all three are green)
Noah (Total Drama) 
Ed or Plank (Ed, Edd 'n' Eddy) 
Jake the Dog (Adventure Time)
Digit (Cyberchase)
Derek Generic (Bobby's World)
The Sandman (Rise of the Guardians (2012))
Bam Margera (Jackass)
David (Animorphs)
Sting the Hornet (Maya the Bee Movie)
Counterparts (Yoshi Version)
Counterparts (Super Smash Bros. Version)
Counterparts (Sonic Version)
COMING SOON IN 2014
Counterparts (Banjo-Kazooie Version)
Parodies
Gallery
Ad blocker interference detected!
Wikia is a free-to-use site that makes money from advertising. We have a modified experience for viewers using ad blockers

Wikia is not accessible if you've made further modifications. Remove the custom ad blocker rule(s) and the page will load as expected.