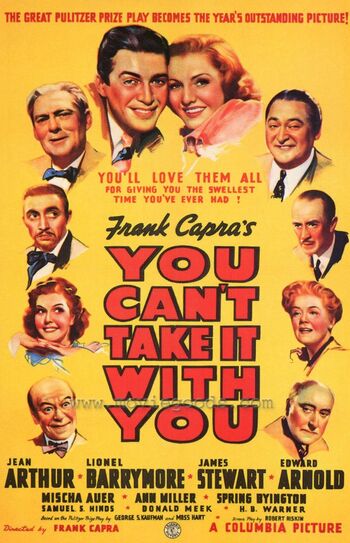 You Can't Take It With You
is a 1938 American Romantic Slapstick Comedy film directed by
Frank Capra
and starring
Jean Arthur
,
Lionel Barrymore
,
James Stewart
,
The Three Stooges
,
Buster Keaton
,
Edward Arnold
,
Milton Berle
,
Ethel Merman
,
Charlie Chaplin
,
Mickey Rooney
and
Judy Garland
. Adapted from the
Pulitzer Prize
-winning
Play of the same name
by
George S. Kaufman
and
Moss Hart
 to the Screen by
Ludwig Bemelmans
, based on the Story Idea by
Robert Riskin
,
George S. Kaufman
,
Moss Hart
and
Ludwig Bemelmans
, the film is about a man from a family of rich snobs who becomes engaged to a woman from a good-natured but decidedly eccentric family.
The film recieved three Academy Awards from eight nominations: Best Picture, Best Director (Comedy) and Best Ensemble in a Comedy Film. This was Capra's third Oscar for Best Director in just five years, following It Happened One Night (1934) and Mr. Deeds Goes to Town (1936). It was also the highest-grossing picture of the year.
Plot
Cast
Wins
Best Ensemble Cast in a Comedy Film: Jean Arthur, Lional Barrymore, James Stewart, Edward Arnold, Mischa Auer, Ann Miller, Spring Byington, Samuel S. Hinds, The Three Stooges, Buster Keaton, Milton Berle, Ethel MErman, Donald Meek, H.B. Warner, Halliwell Hobbes, Dub Taylor, Charlie Chaplin, Mickey Rooney, Mary Forbes, Lillian Yarbo, Eddie Anderson, Charles Lane, Judy Garland, Harry Davenport, Ian Wolfe, Ward Bond, Greta Garbo, Robert Cummings, Fay Wray and many others.
Nominations
Reception
The Film recieved a perfect "100%" Certified Fresh rating on Rotten Tomatoes.
Ad blocker interference detected!
Wikia is a free-to-use site that makes money from advertising. We have a modified experience for viewers using ad blockers

Wikia is not accessible if you've made further modifications. Remove the custom ad blocker rule(s) and the page will load as expected.