Guild Creation
Simple, you need to talk to the guild manager npc at the village (?) However, the basic conditions of the character must be level 20 or above, and pay 100k gold.
Disolving the guild
Again done through the guild manager npc (?)
Join Guild
There are two choices here, either get invite in a guild or apply for membership.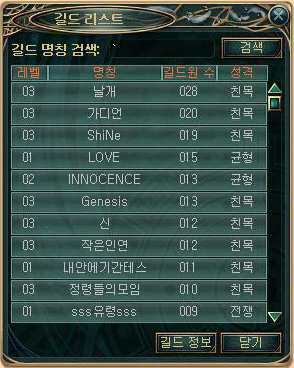 How to use the Guild NPC Guild menu Guild administrator NPC → View → Guild List → Sign
Guild Level Upgrade
You increase the guild level via the guild npc. However, to increase the level of the guild, according to the basic conditions: ->Items (Quest, production, Monster drop) and gold are required.
Leaving a Guild
Guild Management Window, at the bottom, click the button to leave the guild and a message will pop up asking for a confirmation, press "OK" and you will be removed from the guild.
Creating a guild Emblem
- The guild master can change the Emblem.
Guild of the 10 level or higher.
Guild 100k Gold is required for first time.
Guild Emblem must be 32x32 pixel size, and in DDS file format.
Guild Emblem can't be bigger than 8kbs.

How to apply the Emblem file:
1. Create the GuildMark.dss (the image that's going to be your future emblem)
There are 3 ways to do this: 
 1) Find dxtex.exe in your directx folder or download directx sdk.
 2) Use Photoshop with this plugin from nvidia.
 3) Download the file seperately here

2. Copy GuildMark.dss in the profiles/11/GuildMark folder in your game directory.
3. Choose the guild emblem from the guild window.
4. Click the OK button to register.
Ad blocker interference detected!
Wikia is a free-to-use site that makes money from advertising. We have a modified experience for viewers using ad blockers

Wikia is not accessible if you've made further modifications. Remove the custom ad blocker rule(s) and the page will load as expected.