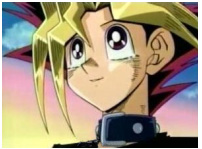 Yugi Mutou.
Friend of Yami Yugi, Yugi Mutou is the main character along with his half, of course Yami Yugi! Yami Yugi learn everything he knows about dueling monsers by his grampa, the shop keeper. He is a high match for everyone, while Yami Yugi was there to guide him. He became more stronger wih his Millennium Puzzle! So now he is the maste of dealing cards.
Ad blocker interference detected!
Wikia is a free-to-use site that makes money from advertising. We have a modified experience for viewers using ad blockers

Wikia is not accessible if you've made further modifications. Remove the custom ad blocker rule(s) and the page will load as expected.