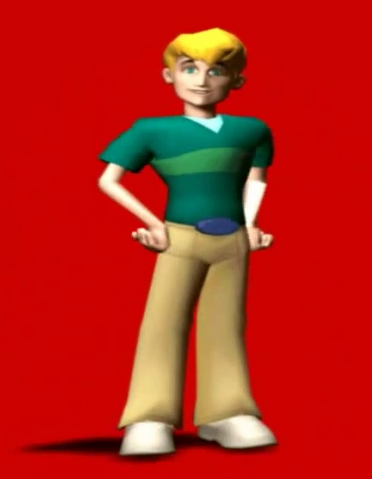 Zack
is a main protagonist character from
Spymasters
and the Jump Start series. He is voiced by
Phil Snyder
.
Species: Human
Clothing: Dark Blue Green T-Shirt with one Green Stripe, Tan Pants, Blue Buckle Belt and Indigo Shoes
Eyes: Blue
Hair: Blonde
Relatives: Jess (girlfriend; wife), TJ Adams (brother), Sally Chu (sister-in-law), Uncle Eli (father-in-law)
Allies: Jess, TJ Adams, Sally Chu, Jo Hammet, Botley, Max Masters (formally; in the computer games), Omega, Alpha
Enemies: Max Masters (in the movies), Max Masters's Minions
Counterparts
Sawtooth (Wacky Races/Dastardly and Muttley)
Timmy Turner (The Fairly OddParents)
Jimmy Neutron (Jimmy Neutron)
Bobby Hill (King of the Hill)
Kevin McCallister (Home Alone)
Moe Howard (The Three Stooges)
P.J. Duncan (Good Luck Charlie)
Blu (Rio)
Prince Cornelius (Thumbelina)
Charlie Brown (Peanuts)
Georg von Trapp (The Sound of Music)
Woody (Toy Story)
Mike Wazowski (Monsters, Inc.)
Pongo (101 Dalmatians)
Robin Hood (Robin Hood)
Tramp (Lady and the Tramp)
Pedro Pony (Peppa Pig)
Prince (Snow White and the Seven Dwarfs)
Prince Charming (Cinderella)
Prince Phillip (Sleeping Beauty)
Eric (The Little Mermaid)
Liu Kang (Mortal Kombat)
Danny (Cats Don't Dance)
Prince Adam (Beauty and the Beast)
Aladdin (Aladdin)
Captain Phoebus (The Hunchback of Notre Dame)
Hercules (Hercules)
Li Shang (Mulan)
Tarzan (Tarzan)
Prince Naveen (The Princess and the Frog)
Flynn Rider (Tangled)
Kristoff (Frozen)
Mario (Super Mario Bros.)
Wallace (Wallace and Gromit)
Rocky (Chicken Run)
Kermit the Frog (Muppets)
Dudley Puppy (T.U.F.F. Puppy)
Donkey Kong (Donkey Kong Country)
Stan Marsh, Kyle Broflovski, or Eric Cartman (South Park)
Rayman (Rayman)
Barney (Barney and Friends)
Rodney (Robots)
Terry Bogard (Fatal Fury)
Peter Pan (Peter Pan)
Adult Simba (The Lion King)
Bambi (Bambi)
Bugs Bunny (Looney Tunes)
Lightning McQueen (Cars 1 and 2)
Lightning McQueen (Cars 1 & 2)
Ash Ketchum (The Pokemon Adventures/World of Doki)
Seigfried (Soul Cailibur)
Finn the Human (Adventure Time)
Jin Kazama (Tekken)
Eddy or Ed (Ed, Edd 'n' Eddy)
Johnny Bravo (Johnny Bravo)
Johnny Test (Johnny Test)
Thomas O'Malley (The Aristocats)
Tinky Winky (Teletubbies)
Hubie (The Pebble and the Penguin)
Dimitri (Anastasia)
Yogi Bear (Yogi Bear)
Reader Rabbit (Reader Rabbit)
Trent (Total Drama)
Roddy (Flushed Away)
Fin the Human (Adventure Time)
Jack Frost (Rise of the Guardians (2012))
Tripp (Failure to Launch (2006))
Jack McGurn (Come See the Paradise (1990))
Jake (Animorphs)
Four (Divergent (2014))
Edward Elric (Fullmetal Alchemist)
Clark Kent (DC Comics)
Flik (A Bug's Life)
Sinbad (Sinbad: The Legend of Seven Seas)
Willy the Bee (Maya the Bee/Movie)
Ad blocker interference detected!
Wikia is a free-to-use site that makes money from advertising. We have a modified experience for viewers using ad blockers

Wikia is not accessible if you've made further modifications. Remove the custom ad blocker rule(s) and the page will load as expected.