Zak 
is a green dragon from
Dragon Tales
.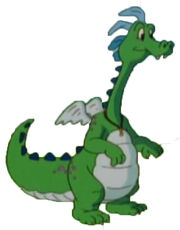 Counterparts
Top Hat (TUGS)
Emery (Chuggington)
Schemer (Shining Time Station)
BJ (Barney)
Roy (Garfield and Friends)
Oogtar (Super Mario Bros.)
Shadow the Hedgehog or Antoine D'Coolette (Sonic the Hedgehog)
Gary Oak (Pokemon)
Tokkori (Kirby)
Mr. Plotz (Animaniacs)
Daffy Duck (Looney Tunes)
Francix X. Bushlad (Taz-Mania)
Norval the Fish (Dr. Seuss/The Wubbulous World of Dr. Seuss)
Buddy Bitty Booty (Wee Sing in Sillyville)
Punchinello (Grandpa's Magical Toys)
Jester (King Cole's Party)
Drew Pickles (Rugrats)
Squidward Tentacles (SpongeBob SquarePants)
Scott or Duncan (Total Drama)
Oscar (Fish Hooks)
B.J. (Barney & Friends)
Gallery
Ad blocker interference detected!
Wikia is a free-to-use site that makes money from advertising. We have a modified experience for viewers using ad blockers

Wikia is not accessible if you've made further modifications. Remove the custom ad blocker rule(s) and the page will load as expected.