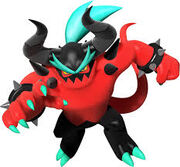 Zavok is a Sonic character who wil debut in Sonic Lost World. He is a Zeti and a member of the Deadly Six. He wants to destroy the world.
Bio
Species: Zeti
Age: 148
Alignment: Evil
Allies: Robotnik (formerly), Zazz, Zeena, Zor, Zik, Zomom
Enemies: Sonic, Tails, Robotnik
Goal: Destroy Earth
Home: Sky Road, Lost Hex
Appearances
Sonic Lost World (Strategy for beating him is below)
Sonic Archie Special: Halloween Freebie
Sonic Boom (Likely)
He may return in a future Sonic title if enough people like him.
Counterparts
The Diesel/D261 or Diesel (Thomas and Friends)
Dogpound or Doomquest (Teenage Mutant Ninja Turtles)
Jafar (Aladdin)
The Red Guy (Cow and Chicken)
Him (Powerpuff Girls)
Mesogog (Power Rangers)
Flame Man (Mega Man)
Shan-Yu (Mulan)
Kusargedo (Samurai Shodown)
Shere Kahn (The Jungle Book)
Drahmin (Mortal Kombat)
Saddlesore (Wild Weet C.O.W. Boys of Moo Mesa)
Lord Demon (Digimon V-Tamer)
The Lead Eliminator (The Fairly Odd Parents)
Tuma (Bionicle)
Vilgax (Ben 10)
Hordak (He-Man)
Rampage (Beast Wars: Transformers)
Zexion (Kingdom Hearts)
BlackZarak (Transformers G1)
Groudon (Pokemon)
Tirek (My Little Pony)
The Hooded Claw (The Perils of Penelope Pitstop)
Pound (Looney Tunes)
Pigma Dengar (Star Fox)
Zarron (Fullmetal Alchemist,fan-made)
Obsidius or Orga (Godzilla)
Parodies
Ad blocker interference detected!
Wikia is a free-to-use site that makes money from advertising. We have a modified experience for viewers using ad blockers

Wikia is not accessible if you've made further modifications. Remove the custom ad blocker rule(s) and the page will load as expected.