Zeaperk is Thomas' Friend-in-Law and
Benny
's Older Brother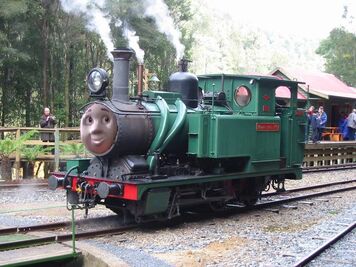 Appearances
Season 3 (Clay TV Series)
Thomas' New Friend-in-Law (Debut)
Connor, Caitlin and The Kipper
Terence 's Adventure
Season 4 (Clay TV Series)
Season 5 (Clay TV Series)
The Great Western (Cameo)
Toad and The Bear (Mentioned)
Oliver and Stephen (Does not Speak)
Sir Topham Hatt's Day Off
Porter and the Sword Fish
Duck's New Friends
Oliver's Accident
Season 6 (Clay TV Series)
Zeakerp in Trouble
New Time for Percy
Diesel 10's Deed
Fearsome Mine
Quarry in Destruction
Season 7 (Clay TV Series)
Stop the Press, Zeakerp
The Disgusting Job
Waspy Zeakerp
Theme
Zeakerp's Theme is The Instrumental Trailer 1 "Tale of the Brave"
Counterparts (Thomas Version)
Counterparts (Magical Island Version)
Oliver (Thomas the Tank Engine and Friends)
Fiery Flynn (World of Doki)
Jaller the Captain of Guard (Bionicle)
Johnny Lightfoot (Sonic the Hedgehog)
Counterparts (Connor and Caitlin Version)
Bertie (Thomas the Tank Engine and Friends)
Puffa/Stanley/Schoooc (TUGS)
Ad blocker interference detected!
Wikia is a free-to-use site that makes money from advertising. We have a modified experience for viewers using ad blockers

Wikia is not accessible if you've made further modifications. Remove the custom ad blocker rule(s) and the page will load as expected.