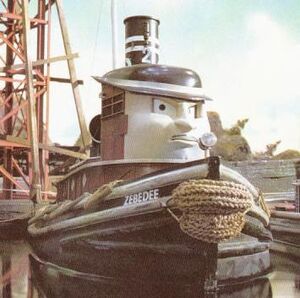 Zebedee is a mean tugboat. He is No. 2 in the Z-Stacks.
Trivia
In Salty's Lighthouse, he was called "Z.B.", but strangely, his nameplate was not censored like Big Mac and O.J.'s.
After TUGS ended, Zebedee's model was used in Thomas And Friends, but without the face and hat. His modified model is currently on display at Drayton Manor.
Counterparts (TUGS Version)
Counterparts (Salty's Lighthouse Version)
Parodies
Gallery
Ad blocker interference detected!
Wikia is a free-to-use site that makes money from advertising. We have a modified experience for viewers using ad blockers

Wikia is not accessible if you've made further modifications. Remove the custom ad blocker rule(s) and the page will load as expected.