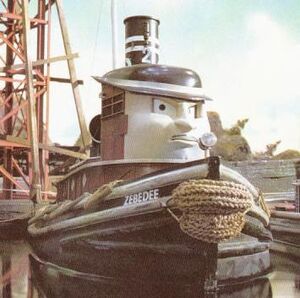 Zebedee is a mean on the outside, but nice on the inside tugboat. He is No. 2 in the Z-Stacks.
Trivia
In Salty's Lighthouse, he was called "Z.B.", but strangely, his nameplate was not censored like Big Mac and O.J.'s.
After TUGS ended, Zebedee's model was used in Thomas And Friends, but without the face and hat. His modified model is currently on display at Drayton Manor.
Counterparts (TUGS Version)
Counterparts (Salty's Lighthouse Version)
Parodies
Gallery