Ad blocker interference detected!
Wikia is a free-to-use site that makes money from advertising. We have a modified experience for viewers using ad blockers

Wikia is not accessible if you've made further modifications. Remove the custom ad blocker rule(s) and the page will load as expected.
The sons of Darkness.
Biology
Zeon Robots (ZBots for Short) Appearance varies from breed to breed. Common features are a massive body and usually one glowing red eye. This is the "normal" appearnce of their armor.
The true appearance of a Zeon is a horrifying sight. Zeons generally have a muscular robotic body, but their outward appearance varies greatly! No 2 ZBots are the same! They appear as metal, flesh, and anything else mixed and twisted together! Some have tentacles for arms. Some have spikes all their heads. They may have their eyes on their chests. They usualy have a dark coloring to their melted skin.
Upon death they turn to what a ZBot truly looks like, a muscular robot! They never have this appearance when they're alive. The reason for this is unkown.
Despite being truly robots, ZBots are built to be "almost" organic. Their wires act like blood vessels. They have a heart and lungs. And they have reproductive organs. This is ONLY viewable when dead. When they're alive it's almost impossible to figure it out, since all the metal is twisted and fused with various pieces of Daemonic flesh.
ZBots stand normally 8-feet tall. The height usually varies from breed to breed. For example Zakus are 7.6 feet tall, and Zuoots are 10 feet tall.
Although built like a human, ZBots have specialised organs in them. These organs are usually visible after death.
Breeds
Zaku
==Zaku==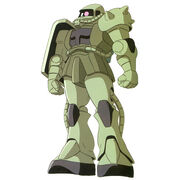 Zakus are the most common of the Breeds. They are sometimes consider the "stupidous breeds". This is not accurate, and is extremely FATAL! All Zeons are highly intelligent and Zakus are no exception. Zakus are highly intelligent and can adapt to any battlefield situation.
A trait that all Zakus share is that they can only say "Zaku"! Despite it being one word, all other Dark Army personal, espicially other Zeons and Commanders, understand them as if they were speaking perfect english! This is consider the Zaku's language and is called Zakuese. After Zakus are promoted to Zaku Warriors, they stop speaking Zakuese, and use the other languages of the Dark Army, mostly Russian.
Zakus aren't as vicious or bloodthirsty as other ZBots, but they can be cruel and sadistic, and have an implacable bloodlust.
Zakus prefer standard weaponry such as Hammerbursts, and Assault Rifles.
Zakus are extremely customizable and so there are many sub-breeds of Zakus.
Zaku Sniper
Zaku Cannon
Zaku RDM
Zaku Minelayer
Zaku Toxin Trooper
Zaku Warrior
Zaku Gunner
Zaku Blaze
Zaku Slash
Zaku Nocticula
Ginn
Gouf
Dom
Tieren
Jenice
Hizack
Gaza-C
Zuoot
Bucue
Gilgaris
OC Breed.
Gilgaris are vicious, powerful, and zealous. Their zeal rivals those (if not greater) of the Ginns.
Massive frame. Cgue like heads. Powerful mechanical wings. Massive legs. Gilgaris are larger then life, and armed with powerful weaponry.
Standard weapons include railguns and missile launchers. Sometimes even bolters.
Mrute
Oak
Mrute
Sub-Cults
Chop-Bots
Lead-Heads
Boom-Dudes
Motor-Dudes
Black Guard
Equipment
Weapons
Although ZBots will use ANY Dark Army weapon, here's some they prefer more than others. ZBots LOVE weapons. And because there are so many customizable breeds, they can be armed with any type of weapon and equipped for any job. ZBots can preform not only frontline soldiers but also as security, and riot control.
Chainsword
Chain Axe
Chain Knife
M4 Revolver-
STA18 Pistol-
M32 Combat knife-
M82 Assault Rifle-
STA52 Assault Rifle-
STA11 Sub-Machine Gun-
STA3 Light Machine Gun-
M224-A1 Light Machine Gun-
STA14 Rifle-
LS13 Shotgun-
M194 Fragmentation Grenade-
Proximity Mine
M327 Grenade Launcher-
VC9 Missile Launcher-
M80 Rocket Launcher-
VC32 Sniper Rifle-
VC1 Flamethrower-
VC21 Boltgun-
TR-X Teslite Grenade-
VC5 Electricity Gun-
Assault Rifle-
Battle Rifle-
Beam Rifle-
Brute Shot-
Carbine-
Energy Sword-
Fuel Rod Gun-
Gravity Hammer-
Guardian Eye-
Magnum-
Mauler-
Needler-
Plasma Pistol-
Plasma Rifle-
Rocket Launcher-
Sentinel Beam-
Shotgun-
SMG-
Sniper Rifle-
Spartan Laser-
Spiker-
Heavy Machine Gun-
Plasma Cannon-
Missile Pod-
Flamethrower-
Frag Grenade-
Plasma Grenade-
Spike Grenade-
Incendiary Grenade-
AVRIL Longbow-
Bio Rifle-
Enforcer-
Flak Cannon-
Impact Hammer-
Link Gun- Redeemer-
Rocket Launcher-
Shock Rifle-
Stinger-
Boltok Pistol-
Boomshot-
Gnasher-
Gorgon Burst Pistol-
Hammer of Dawn-
Hammerburst-
Lancer- A very popular weapon with the ZBots. ZBots love using this weapon to make "Bloody messes!"
Longshot-
Scorcher-
Snub Pistol-
Torque Bow-
Boomshield-
Mulcher-
Mortar-
Bolo Frag Grenade-
Ink Grenade-
Smoke Grenade-
KM2103 Karbine-
KM-33-
Shattergun-
Thunderbolt-
Echo Rifle-
Bloodhound-
EMF Cannon-
Hellfire-
Surge gun-
Clutch Grenade-
Laser Mine-
Spring Mine-
Swarm Grenade-
ORO P23 knife-
ORO C9 Perforator Bow-
ORO Hog 9mm Handgun-
ORO FP9 SMG-
ORO Enforcer Shotgun-
ORO L66 Pulse Rifle-
ORO Warhorse Chaingun-
Triglav 92 Stalker Sniper Rifle-
ORO Red Fist RPG-
ESUS Blackfly Sticky Gun-
ESUS Hellfire Flamethrower-
ORO FG8 Grenade-
Seegert ACM46 9mm-
SHO Series-3 Combat Shotgun-
Vollmer Ultra92 Automatic Shotgun-
Andra FD-99 SMG-
Patten PK470 AR-
Kohler & Bock IDW-15-
Raab KM50 Sniper Rifle-
Armacham HV Hammerhead-
Balzer LM10 Flamethrower-
Andra SR5 Rocket Launcher-
Shark FL-3 laser
Type-12 Energy Weapon Prototype-
N6A3 Fragmentation Grenade-
XS Shock Grenade-
R3 Incendiary Grenade-
AT-L4 Proximity Mine-
Combat Axe-
Forearm Snap-Blades-
Katana-
Knife-
Monofilament Sword
Survival Knife
Sword
Club
Extendable Baton
Sap
Staff
Stun Baton
Monofilament Whip
Pole Arm
Shock Gloves
Bow-
Crossbow-
Shuriken-
Throwing Knife-
Defiance EX Shocker-
Yamaha Pulsar-
Raecor Sting-
Streetline Special-
Colt America L36-
Fichetti Secuirty 600-
Hammerli 620S-
Yamaha Sakura Fubuki
Ares Predator IV
Area Predator Pistol-
Ares Viper Slivergun-
Colt Manhunter-
Remington Roomsweeper-
Ruger Super Warhawk-
Ceska Black Scorpion-
Steyr TMP-
AK-97 Carbine-
Ares HH.45 SMG-
H&K 227-X-
HK MP-5 TX-
Ingram Smartgun X-
Uzi IV-
AK-97-
Ares Alpha-
FN HAR-
HK XM30-
Racom 7.62 MM Combat Rifle-
Ruger 100-
PJSS Elephant Rifle-
Kinetic Labs XM-20 Sniper Rifle-
Ranger Arms SM-4-
Walther MA-2100-
Mossberg AM-CMDT-
Racom Gutter Cleaner Shotgun-
Remington 990-
Ares S-III Super Squirt-
Fichetti Pain Inducer-
Ingram White Knight-
Stoner-Ares M202-
Ultimax-HMG-2-
Vindicator Minigun-
Panther XXL-
Ares Antioch-2-
ArmTech MGL-12-
Mitsubishi Yakusoku MRL-
ArmTech Personal Rocket Launcher-
Aztechnology Striker-
Flash-Bang Grenade-
Flash-Pak-
Fragmentation Grenade-
High Explosive Grenade-
Gas Grenade-
Smoke Grenade-
Thermal Smoke Grenade-
Monofilament Chainsaw-
Diplomat Wilson D6 Pistol-
BlackSaw BSW-72 Assault Rifle-
Donkey Puncher DP-118 Combat Shotgun-
Hard Candy HK-387L Rocket Launcher-
Pinpointer BSW-72 ESR Enhanced Sniper-
Spring Cleaner SK3 Fragmentation Grenade-
JM90 Heavy Gun-
Razor Tongue Knife-
Lobo Assault Rifle-
Oso Shotgun-
Mano del Dios Chaingun-
Dragon de la Gente Flamethrower-
Aquila Sniper Rifle-
Malafruta Frag Grenade-
Nectar Grenade- AVEX EVP-
Salier MGA-
Kaller MLI-
Salier P4-
Salier P61-
Sikarit S77-
Miyaki ASG10-
Miyaki DK11A-
Falken R.I.D.-
Aeger TA-
Aeger TS20-
Aeger TT4-
Miyaki UDP-
N8D-F Frag Grenade-
N8D-FB Flash Bang grenade-
N8D-E EMP Grenade-
N8D-I Incendiary Grenade-
N8D-C chemical Grenade-
N8D-S Smoke Grenade-
CH8D Charge Holster-
Vehicles