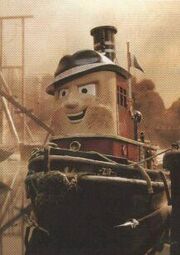 Zip is Captain Zero's second 'harbour switcher'. It is safe to presume that he is also the newest addition to the fleet, as well as the youngest. He works, nearly always, with Zug (No. 4) and together they are often used to win minor contracts (such as the freighting of quarried bolders) and other such duties. Like the rest of the Z-Stack fleet, Zip is based on the Moran tugs of New York. He speaks with a neutral English accent.
Trivia
His model was bought by the Star Tugs Trust.
Counterparts (TUGS Version)
Jean Claude Pea (Veggie Tales)
Man Ray (SpongeBob SquarePants)
Zilly (Dastardly and Muttley)
Danforth Drake (Tiny Toon Adventures)
Timmy Tibble (Arthur)
Todd McNulty (Rugrats)
The Evil Monkey (Family Guy)
Scampers (Fanboy and Chum Chum)
James Nixon McGarfield (Codename: Kids Next Door)
Sly The Goblin (Noddy's Toyland Adventures)
Elekid (Pokemon)
Mad Dog (Talespin)
Arnie (Maya the Bee Movie)
Counterparts (Salty's Lighthouse Version)
Parodies
Ad blocker interference detected!
Wikia is a free-to-use site that makes money from advertising. We have a modified experience for viewers using ad blockers

Wikia is not accessible if you've made further modifications. Remove the custom ad blocker rule(s) and the page will load as expected.