Zoey is a female character on "Total Drama". She is the recent winner of "Total Drama All-Stars"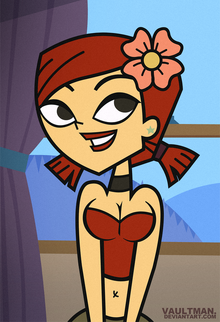 Biography
Friends: Mike (relationship), Gwen, Duncan, Cameron, Sierra, Brick, Dawn
Enemies: Mal, Heather, Alejandro, Courtney, Scott, Lightning, Jo, Anne Maria
Alongside Duncan, she appeared in every episode in two consecutive seasons.

Unlike Duncan, she did so without being targeted for elimination by more than one contestant, up until their elimination.

She, Heather, and Owen have been in the final three more than once.

She and Owen are the only contestants to do so in two consecutive seasons.

Zoey did so fairly, while Owen was brought back midway into TDA.
Counterparts
Female Version
Emily (Thomas & Friends)
Lillie Lightship (TUGS)
Wendy Testaburger (South Park)
Yo (Fanboy & Chum Chum)
Coco Bandicoot (Crash Bandicoot)
Tessie Bear (Noddy's Toyland Adventures)
Penny Morris (Fireman Sam)
Sara Clifton (Postman Pat)
Toph (Avatar: The Last Airbender)
Twilight Sparkle (My Little Pony: Friendship is Magic)
Wyldstyle or Unikitty (The Lego Movie)
Wendy Corduroy (Gravity Falls)
Johanna Mason (The Hunger Games)
Buneary or Delia (Pokemon)
Polite Panda (The Care Bear Family)
Periwinkle (Tinkerbell)
Joy (Inside Out)
Lucy Heartfilla (Fairy Tail)
Flaky(Happy Tree Freinds)
Ariel (The Little Mermaid)
Lisa Asparagus (VeggieTales)
Fizz (Tweenies)
Kitty (The Ridonculous Race)
Pearl (My Friend Rabbit)
Male Version
Phineas Flynn (Phineas and Ferb)
Bart Simpson (The Simpsons)
Trent (Total Drama Island)
Don (The Ridonculous Race)
Emmet (The Lego Movie)
Mike Asparagus (VeggieTales)
Ad blocker interference detected!
Wikia is a free-to-use site that makes money from advertising. We have a modified experience for viewers using ad blockers

Wikia is not accessible if you've made further modifications. Remove the custom ad blocker rule(s) and the page will load as expected.